Handling Electric Vehicles (EVs)
Responding to requests for relief assistance
In addition to general relief work such as changing flat tires, recovering keys locked in the car, and towing vehicles with problems, JAF can help with transportation to the nearest charging station or hydrogen station, if the battery and hydrogen run out on the road or while you are out.
Transport destination not limited to JAF's branches with EV fast chargers.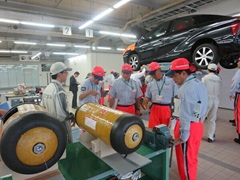 [Related information] Using EV fast chargers at JAF branches
EV fast chargers (CHAdeMO specification) are available at five JAF branches, free of charge for JAF members.
Branches with EV fast chargers
Kanagawa Branch
Address: 2-1-8 Katakura, Kanagawa-ku, Yokohama-shi Kanagawa 221-8718
TEL: 045-482-1244
Aichi Branch
Address: 3-7-56 Fukue, Showa-ku, Nagoya-shi, Aichi 466-8580
TEL: 052-872-3655
Osaka Branch
Address: 2-1-5 Nakahozumi, Ibaraki-shi, Osaka 567-0034
TEL: 072-645-1300
Hiroshima Branch
Address: 2-9-3 Kogokita, Nishi-ku, Hiroshima-shi, Hiroshima 733-0821
TEL: 082-272-0321
Kagawa Branch
Address: 1083-16 Matsunawacho, Takamatsu-shi, Kagawa 760-0079
TEL: 087-867-8411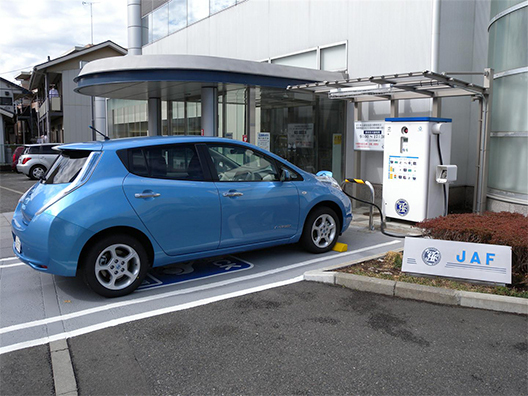 Fee for using (30 minutes)
JAF Members including family and corporate members

Free of charge

Non-members

1,000 yen per use (excluding consumption tax)
Office Hours
9:00-17:30 (Applications must be done by 17:00)
For a while from October 12, 2020, service counters at JAF branches nationwide will operate with shortened business hours from 10:00 a.m. to 5:00 p.m (Closed on Saturday, Sunday, national holidays and new year holidays.) 
【Notes】
Applications can be done at each branch counter. JAF members have to present their valid membership card.
EV fast chargers can be used during office hours indicated above.
There is only one EV fast charger in each branch. We may request you to wait for your turn when crowded.