Gain even more peace of mind with "JAF + insurance"! Plus α preferential services
People who assume that they don't need JAF if they have auto insurance can receive augmented services by becoming a JAF member and an auto insurance policyholder. JAF members who also have a policy from an auto insurance company affiliated with JAF (including motorcycles) receive plus α preferential services (such as an expanded scope of free services) with their normal JAF member road services, making this extremely advantageous. By becoming a JAF member, members can use road services that are not covered by their auto insurance policy. *1*2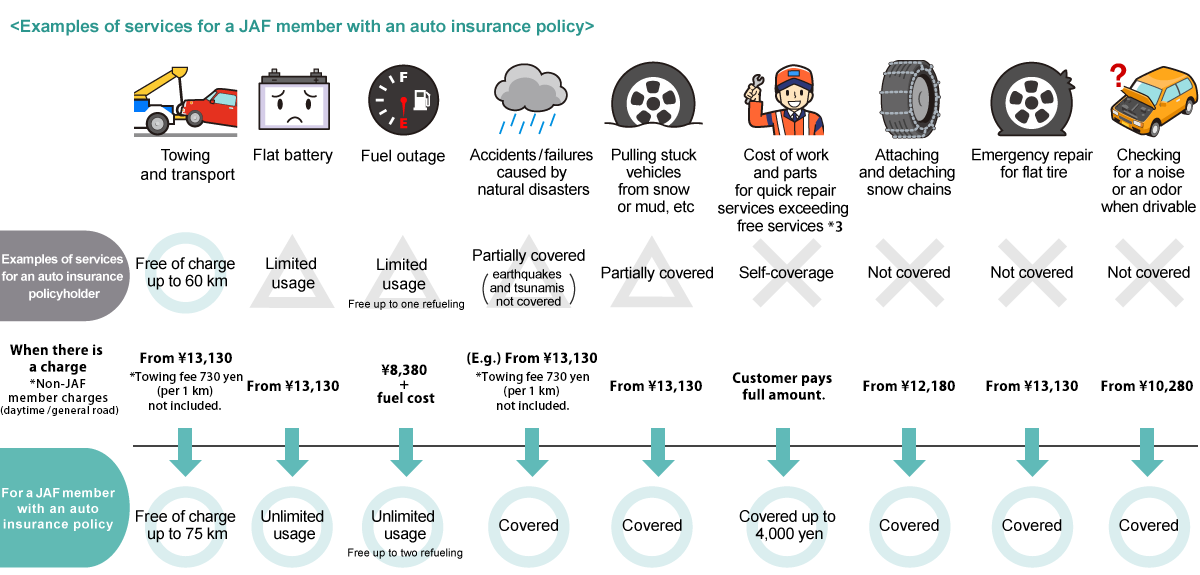 *1 Preferential services exclusively for JAF members differ depending on the insurance company.
*2 Excluding accidents or breakdown of vehicles not indicated on the insurance policy (special clause regarding family motorcycles and other vehicles).
*3 Cost of parts limited to those that can be replaced on site.
Preferential services for JAF members offered by auto insurance companies
The preferential services offered just for JAF members differ depending on the company, so please confirm the details on the following websites.
◆Note◆
When requesting help, please call your auto insurance company's contact center and tell them that you are a JAF member.
(JAF members will, in principle, be passed on to JAF with the customer's permission.)
Some auto insurance policies do not include road service.
Please contact your auto insurance company with any questions about insurance policies.