Type of JAF Membership Card
Individual Member/Family Member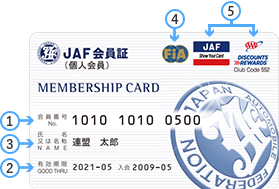 1.

Membership number 12 digits

2.

Validity of membership card

3.

Member's name

4.

FIA (Fédération Internationale de l'Automobile) Logo*1

5.

Show Your Card / AAA DISCOUNTS&REWARDS® LOGO*2
For individual members only, membership cards of different colors are issued according to membership duration.

The expiration date stated in the membership card represents the expiration date of the membership card, and the validity of membership is the period covered by the membership fee.
Members who use the automatic bank transfer for continued membership are sent a membership card that is valid for up to 5 years in advance, so it may differ from the period for which the membership fee is paid. For more details, please visit the information regarding withdrawal (How to continue membership).
Corporate Member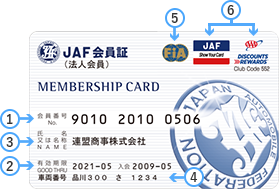 1.

Membership number 12 digits

2.

Validity of membership card

3.

Member's name

4.

License plate number

5.

FIA (Federation Internationale de l'Automobile) Logo*1

6.

Show Your Card / AAA DISCOUNTS&REWARDSR LOGO*2
Corporate membership cards are white, regardless of the number of years of membership. The license plate number is printed on the card.
*1

This indicates that when presenting a JAF membership card at an oversea automobile club that is a member of FIA, you can receive the same services as their members.


*2

This indicates that JAF members can receive discounts and other services at overseas partner facilities where this logo/sticker is posted.