What to be careful of on snow-covered and icy roads

When a snow disaster occurs
Driving on snow-covered roads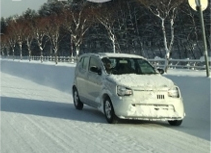 Be careful on skidding due to sudden lane changes or any other sudden maneuvers.
Step on the accelerator gradually and start slowly.
If there is snow on the road, it's important to put your snow chains on as soon as possible.
If you get stuck on a snow-covered road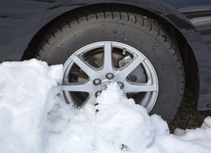 If your tires skid or get stuck in fresh snow, slowly move the car back and forth tread down the snow around the tires.
If you find a gravel box at the roadside, scatter the gravel around the driving wheel.
When you get stuck in heavy snowfall and cannot move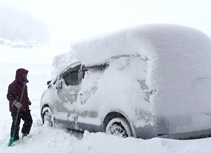 If you're in a whiteout such as a snowstorm, turn on your hazard lamps and stop at a safe place.
If the exhaust port is plugged with snow, you are at risk of carbon monoxide poisoning.
While waiting for rescue to arrive, clear at least enough snow for the exhaust to vent.
Things you should know about snow-covered roads
In addition to using your eyes to maneuver on snowy roads, it is especially important to make predictions. Practice simulations of driving on snowy roads and learn the tips of predicting danger.
What you want to have before driving on snow-covered roads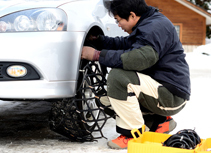 Be sure to have snow chains and a jack, even when your car with snow tires on.
In the wintertime, you should prepare booster cables for contingencies that may arise.
Blankets will not only protect you from the cold but also help to escape a snow-covered road.
Hazards along snow-covered roads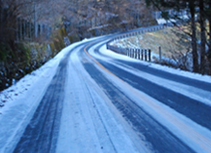 Airy bridges and overpasses, and near the inlet and outlet o
Be especially careful on icy roads, as they are slipperier than snow-covered roads.
Drive by landmarks such as the arrows and reflector poles along the edge of the road.