Full lineup of membership benefits other than road service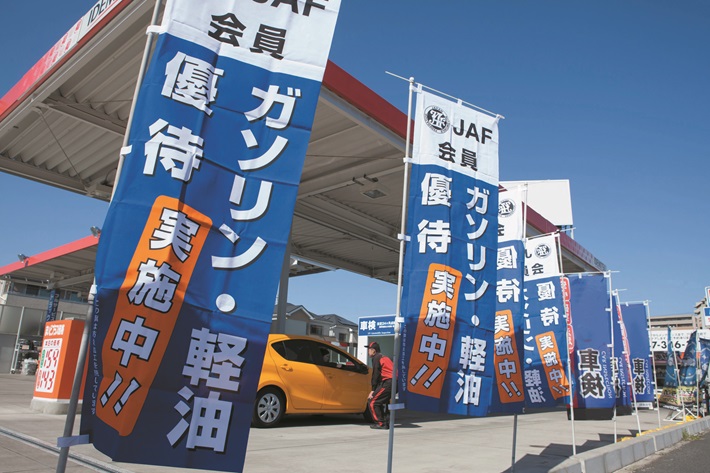 People who want to join JAF in the event of any car problems may worry that the annual membership fee is a waste if they don't have any opportunities to use road service, but we offer many benefits and services to JAF members that can be used every day.
Becoming a member gives you access to membership benefit services such as discounts and special offers at partner facilities in about 47,000 locations across the country. We also send out a magazine packed with information on car and traffic safety and road trips, as well as a newsletter with information on time-limited benefits and coupons. JAF offers a wide range of membership benefits* other than road service that can be used every day, including events and gifts just for members, a consultation service for road trips, and lectures on traffic safety.
*Membership benefits differ for individual memberships and family memberships. Please see below for details.
Use your benefits wisely and you can even save more than the annual fee costs! * Tricks to make full use of membership benefits
1.Closely check member benefit facilities on the website and in JAF magazines!
JAF has about 47,000 partner facilities nationwide. They cover a huge range, from everyday living to leisure. In addition to year-round benefits that can be used repeatedly throughout the year, JAF also has special benefits and coupons on the JAF app that are time-limited and offer even more advantages. Please use the website "JAF Navi" and "JAF smartphone app" and magazines "JAF PLUS" to look for membership benefit services that match your needs and tastes. When using the coupons included in "JAF PLUS" please remove the coupon in advance and present it to the facility. When using the coupons in the "JAF smartphone app" show the coupon screen in the app to the facility in order to use it. (Please show your JAF Membership ID before ordering at facilities providing specific products such as drinks and toppings.)
*The linked URLs for details are in Japanese only.
JAF Navi
*By using membership benefit services, the total discounts received may exceed the annual membership fee. JAF does not offer any cash-back options or gifts that exceed the annual membership fee.
【Membership benefits by genre】

2.Use your membership benefits regardless of whether you are using your car! Benefits can be used every day at facilities near your house and on the way to work and school.
JAF's member benefit services are not only related to cars. You can receive discounts every day for your lunch or at cafes, and many stores that are essential to your daily life offer member benefit services, such as drugstores, dry cleaning and online shopping. If you use these benefits wisely in your everyday life, you can even earn discounts equivalent to the annual fee.
3.Benefits for road trips and travel as well! Don't forget to use them when you make reservations and at your destination.
Don't forget to check membership benefit services when planning a trip! You can receive discounts on travel tours, accommodation fees, rental car fees and WiFi rental fees. JAF even has membership benefit services for outdoor facilities, tourist spots, zoos, amusement parks and theme parks. We also offer many benefits to places like gas stations, roadside rest areas, and SA/PA that are essential for your road trip and make your outings fun.
Road Service

The language they used, their attitude towards the customer, explanations of how to deal with the breakdown and the follow-up that needs to be done – all of these were much better than I had expected. Even in the rain, they did a perfect job. They reassured me that as long as I remain a JAF member, I can feel secure, even if I run into trouble in the future.

Male, Kanagawa Prefecture
Road Service

I let my large motorcycle fall over in my garage so I called for help. JAF immediately recognized that it was a brand-new motorcycle that I had just bought and quickly made appropriate judgments on where to touch and in which direction to move the bike after picking it up safely and undamaged. I have only gratitude for their guidance after understanding what I was going through, naturally helping me not to panic or fret.

Male, Chiba Prefecture
Road Service

Despite the fact that they were busier than usual because of the heavy rain, they responded and helped me much faster than I had expected. I have been a member of JAF for more than 20 years, but this was the first time I used the service. I am honestly glad that I did not cancel my membership.

Male, Toyama Prefecture
Membership Benefits

In addition to the peace of mind I get by being a JAF member, I am satisfied with the benefits I get from participating in JAF's hands-on events as well as the preferential discounts (on hot springs, meals, coffee, soft cream, and more).

Female, Kumamoto Prefecture
Membership Benefits

Even a 10% discount using the benefit service makes me feel like I'm getting a good deal. I don't mind paying the annual membership fee because there are so many kinds of benefit facilities.

Female, Aichi Prefecture
Membership Benefits

I was able to take advantage of the benefits and really save on my purchases! Before, I used to have to search my wallet or bag for my membership card and couldn't use it if I had left it in my car, but now I can just show my card on my phone, which is very convenient.

Female, Aichi Prefecture