JAF was established as an organization for automobile users in February 1963 and started operations on April 1 of the same year. In addition to providing roadside assistance in support of safety and security, we have also actively promoted traffic safety activities and environmental measures.
In 2005, we started road service for motorcycles, and during the disasters of the Great East Japan Earthquake in March 2011 and the Kumamoto Earthquake in April 2016, we organized a Road Service Task Force to provide support.
In order to meet the needs of society as well as JAF members, we are engaged in a wide range of activities, including an extensive variety of projects for safety and environmental protection.
Outline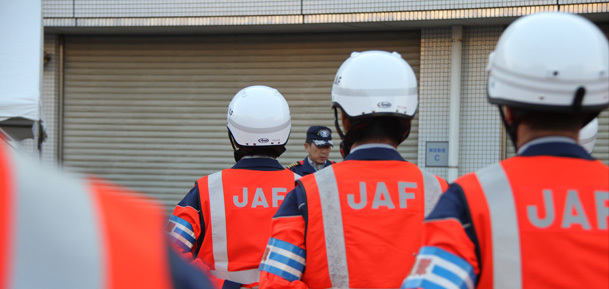 JAPAN AUTOMOBILE FEDERATION
Masayoshi Sakaguchi, President
Nihon Jidosha Kaikan 14F, 1-1-30, Shibadaimon, Minato-ku, Tokyo, 105-0012
Every year from April 1 to March 31 the following year
3,370 (as of the end of March, 2023)
20,312,181(as of the end of August, 2023)
Road Service Rescue Cases
Please click the link below for details about JAF activities.