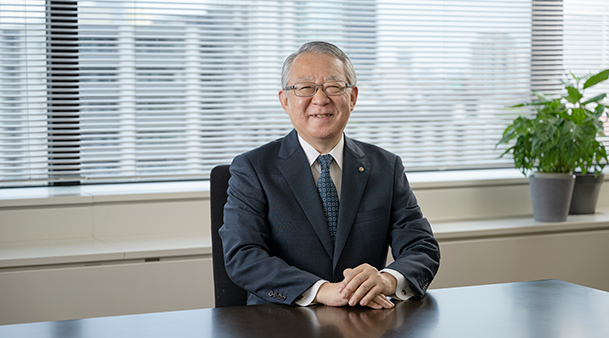 Thanks to the understanding and cooperation of all of everybody, including those in the automobile industry, the number of JAF members increased by approximately 170,000 as of the end of November last year, compared to the same period the year before, reaching a total of 20.188 million.
We would also like to express our sincere gratitude in helping us to reach a milestone, as in April this year, we will be celebrating our 60th anniversary. Going forward, we will continue to actively implement measures to further improve member satisfaction and to solve problems facing the automotive community.
JAF was established in 1963 by the consensus of the automobile industry, by referencing overseas automobile clubs that helped to solve numerous problems that were becoming apparent with the increasing number of drivers from other countries in Japan, along with the development of motorization. Now, more than half a century later, the automobile environment continues to change at an accelerating pace.
In response to these changes, while meeting the expectations of automobile users, JAF is constantly changing through dialogue and co-creation, aiming to support safe and secure local communities.
As for roadside services, we are upgrading our vehicles and equipment to keep pace with ever-evolving automobile technologies such as EV and automated driving. Meanwhile we are working to further educate and train our roadside service staff.
In October of last year, we started the Video Advisory Road Service, a service to promptly respond to inquiries from customers. With this service, when a customer calls for help, we offer an online connection (video call) to accurately identify symptoms and panel indications that are hard to communicate in words, to provide accurate advice and quickly solve the problem. This service enables the deployment of service vehicles to efficiently respond to calls for help, reducing the time customers are kept waiting.
JAF's social contribution activities cover a wide range of areas, including support for disaster-stricken areas, traffic safety enlightenment, and community revitalization.
Last year, heavy rain disasters hit Japan again, causing serious damage to many people. September's Typhoon Talas that hit Shizuoka Prefecture caused flooding damage to a large number of vehicles. The largest call for roadside assistance in Shizuoka (3,901 with 2,062 cases of flooding) was during the three-day period from Friday, September 23. In the two weeks starting Saturday, September 24, JAF dispatched 31 support vehicles from other prefectures as special support for the disasters. JAF will continue to actively participate in disaster prevention drills to ensure accurate response to requests for assistance from customers affected by disasters, even under severe conditions. As such, we have a system in place that enables prompt relief in the event of an emergency.
2022 was our seventh year of surveys on pedestrian protection at crosswalks without traffic lights, with results being reported by the mass media every year. The results this time showed that 39.8% of drivers were stopping, a steady increase since the survey began. However, there were still about 60% of cars that were not stopping at the crossings. We plan to further promote awareness in cooperation with organizations involved.
Regarding member services, we are continuing to make the contents broader and more enticing so that they can be enjoyed in various aspects of daily life, including the enhancement of preferential facilities that members can use, drive stamp rallies at sightseeing spots, and events.
Last year, many motorsport events were held throughout Japan. With the cooperation of venues in taking measures against infectious diseases, we supported these JAF-approved competitions ranging from top category competitions to auto tests that even motorsports beginners could easily enjoy. We will keep working with motorsports clubs in each region to further make the sport more exciting.
We ask for your continued support this year, as we strive to do our best to contribute to the development of a healthy car society.
Masayoshi Sakaguchi
President
Japan Automobile Federation (JAF)