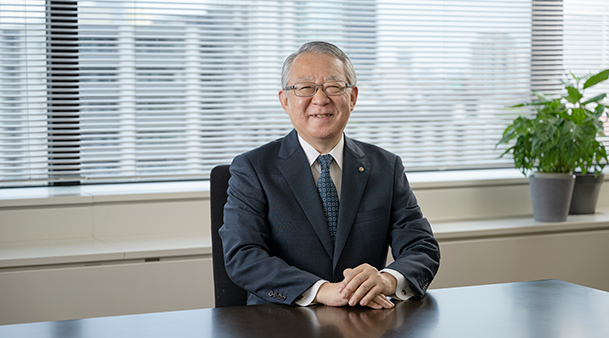 This year marks the 60th anniversary of JAF. In 1963, when JAF was established, Japan was entering a period of rapid economic growth and the private car was becoming a permanent part of people's lives. Meanwhile, with the Tokyo Olympics coming up and to facilitate the smooth acceptance of automobiles from abroad, there was a strong need for an automobile user group that would provide support for roadside services and road trips, traffic safety awareness, and motor sports administration, like those in Europe and the United States.
As such, and with the efforts of everyone involved, including those in the automobile industry, JAF was born. Since then, thanks to the cooperation of many people, the number of JAF members, who form the foundation of our operations, reached a total of 20,301,304 as of the end of March this year, an increase of more than 200,000 since the end of last fiscal year.
Today, the environment and social conditions surrounding the automobile are continuing to change dramatically at an accelerating pace. These changes are wide-ranged, from the evolution of technology, digitization of society, major reforms in business models due to the progress of CASE and MaaS, and diversification of individual lifestyles.
JAF is now working on various business activities to improve our members' convenience and satisfaction, as we usher in a new mobility society.
As part of these efforts, in order to respond to the expected increase in electric vehicle (EV) power shortages, preparations are being made to start an on-site recharging service by equipping our roadside service vehicles with recharging equipment.
As for roadside services supporting road safety and peace of mind, at the beginning of June this year when torrential rains caused by a linear precipitation zone caused damage in various parts of Japan, special support teams from the Kanto, Kansai, and Chugoku regions were promptly dispatched to respond to the surge of requests for assistance in Aichi Prefecture, which was particularly hard hit.
Going forward, we will continue to realize a safe and secure mobility society with roadside services as a start. In order to respond to the diversification of individual lifestyles, we will increase our points of contact and strive to improve member services under the business themes, Dialogue and Co-creation.
Masayoshi Sakaguchi
President
Japan Automobile Federation (JAF)