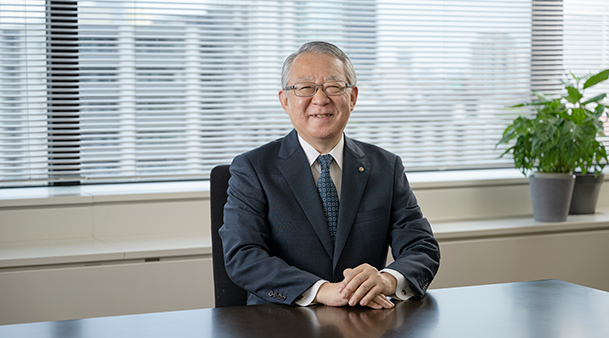 Since our founding in 1963, JAF has continued to provide road services and various other services to support automobile user safety and security. Thanks to your encouragement, JAF membership surpassed 20 million in November 2021, for which I would like to extend my heartfelt gratitude.
Amid the ongoing spread of COVID-19 that began two years ago, technology has evolved at an accelerating pace and become a bigger part of our lives, with society increasingly digitalized. It is very likely that lifestyles will rapidly diversify in the near future. To respond to these changes in the external environment, at JAF we are making wonderful improvements to our services and digitizing operations under our business mottos, "dialogue" and "co-creation".
With the aim of reducing environmental impact and to create new lifestyles in the digital society, we have changed the publication of our JAF Mate magazine to a quarterly of four per year. In addition, As an alternative available to all members, in mid-March 2022 we launched our new website JAF Mate Online to provide updated information and services that can only be offered online. Through careful consideration of the global environment, JAF will continue to deliver experiences that make the best use of both print and website content.
As for road services, our vehicles and equipment are being upgraded to keep up with ever-evolving automobile technology such as EV and automated driving, as we train and educate our road service personnel. Furthermore, in order to provide more convenient road services at drivers' fingertips, we are now considering offering those that can be completed over the phone or online.
Our preferential services program has greatly improved in terms of convenience by making each service seamless through JAF's smartphone app. As part of our ongoing commitment to help our customers enjoy a more fulfilling life not only in your cars but also your daily lives, JAF is offering the four new services:JAF Insurance, JAF Health and Medical, Discount of JAF Electricity Charges, and JAF Home Life Support.
JAF's social contribution activities cover a wide range from assistance for disaster-stricken areas to traffic safety awareness, and community revitalization. In our traffic safety activities, in addition to local seminars, we continue to work closely with related organizations to solve and raise awareness of social issues such as pedestrian protection at crosswalks without traffic signals.
In motor sports, we staged official JAF competitions from top category to auto tests that even beginners in motor sports could casually enjoy. Going forward, with the assistance of the Japan Sports Agency, we plan to ensure the safety and fairness of competition and increase the number of fans, a major pillar of Japan's automotive culture.
As we prepare for the advent of a new age of mobility, under our basic philosophy of contributing to a healthy automobile society, JAF will actively continue to provide services that satisfy all of our members.
Masayoshi Sakaguchi
President
Japan Automobile Federation (JAF)